An invention can be explained easily if it is accompanied by an accurate patent drawing. A detailed patent drawing saves you in the long run as it may include something which you might have missed in written disclosure. But, the major question arises here is – who produces an accurate and effective patent drawing? Good patent Illustrators or patent drawing software. So, let's find out whom should you opt to obtain an accurate patent illustration for your invention.
Related Article: Patent Filing Process in 3 easy steps
Benefits of Patent Drawing Software
Patent drawing software is a simple computer that produces diagrams, flow-charts, computer-aided drafts etc. Therefore, these drawing forms help patent examiner and other parties understand your invention with its inner working. Moreover, the user can produce virtual prototypes and 3D renderings with the help of this software.
However, software patent drawings do have some drawbacks which cannot be neglected. If you are unaware of computer drafting programs, you must avoid it. Also, hefty cost is one of the top reasons due to which many inventors avoid patent drawing software. Moreover, patent drawing software might fail to produce drawings adhering to the USPTO rules.
So, many times you will need assistance from a good patent illustrator to create an accurate patent drawing for your invention.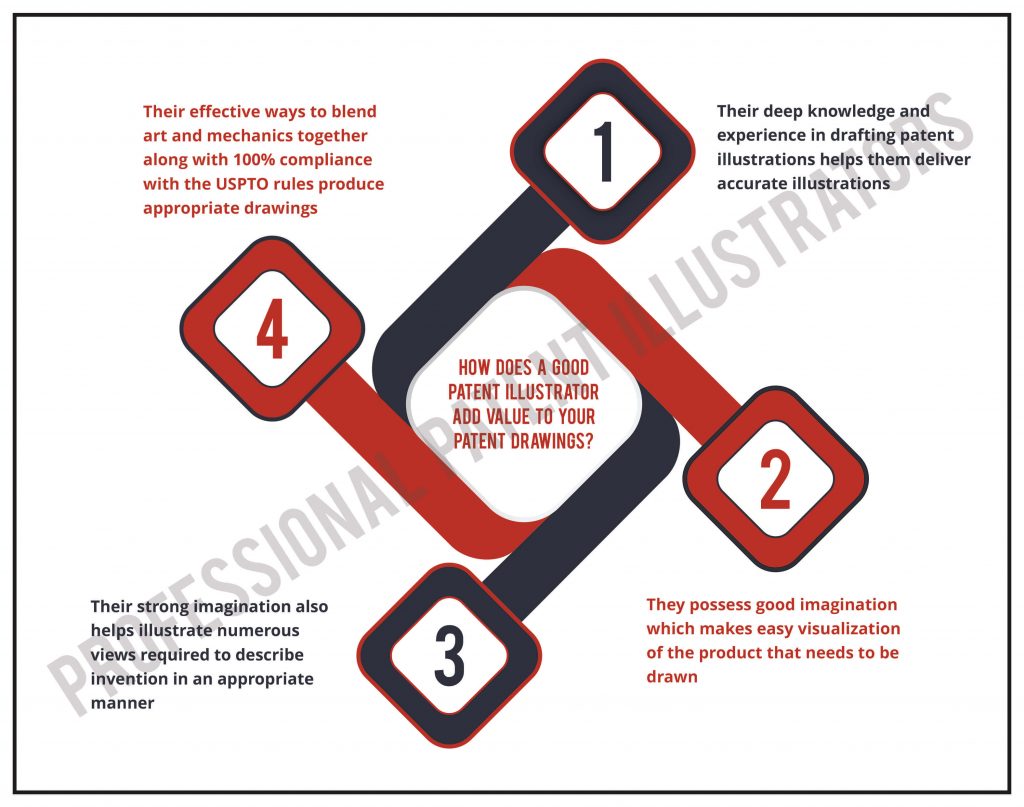 How Good Patent Illustrators Add Value to Your Patent Drawing?
Good patent illustrators have deep knowledge and experience in drafting patent illustrations.
They possess good imagination which helps them easily visualize the product needs to be drawn.
Their strong imagination also helps illustrate numerous views required to describe your invention in an appropriate manner.
An accurate patent illustration can be produced as they know effective ways to blend art and mechanics together along with 100% compliance with the USPTO guidelines.
Hence, unlike patent drawing software their ability to depict product designs and characteristics to produce detailed drawings of artwork and assembly drawings make them more effective and efficient than drawing software.

Related Article: How does a patent illustrator add value to your patent application?
Why Choose Professional Patent Illustrators?
We at Professional Patent Illustrators have a team of experienced illustrators who deliver best patent drawings to clients. Irrespective of multiple domains like information technology, computer science, mechanical, biotechnological, electrical, or electrochemical, our draftsmen have worked on a different genre which makes them produce accurate drawings. Also, while drawing, our illustrators always make sure to follow jurisdiction guidelines step-by-step to avoid office action. They produce error-free drawings without any compromise on quality. Also, we ensure a proper data confidentiality of our clients.
To make an inquiry, visit the Professional Patent Illustrators service page.
Other Related Articles:
Things to Do Before Patenting Something
How to Write A Patent: The Most Important Tips, Tricks, and Hacks
Will a professional patent illustrator meet your needs?


Click Here to Get Download Access (Free Sample Illustrations)

Click Here to Download All Free Resources