An illustration should include enough details such that it coveys minute details about the elements. It is always a wise idea to hire a certified patent illustrator for a patent illustration . Their comprehensive and professional drawings save you from unwanted Office Actions. However, since the last few years a patent illustrator's journey has become quite difficult. Once the illustrators hired for accurate patent drawings are now given less importance. Also, cultural shift and cost cutting trends have degraded the quality of patent illustrations.
Related Article:IDS Filings Timeline and Procedure: Must Know
Effect of USPTO Standards On A Patent Illustrator's Journey
Due to multiple variations in the USPTO standards, the need for aesthetic patent drawings have faded away. The change in the USPTO rules for patent drawings reduced the number of revisions needed for accurate illustrations. Also, the USPTO has started accepting drawings in black ink as it can be easily reproduced.
However, filing a petition and paying extra fees can allow applicants to submit colour drawings. But it must be accurate enough for the examiner to easily understand. So, now it is not mandatory to give priority to patent drawing aesthetics. But the drawing must have all the relevant information which will act as a communication gateway with the examiner.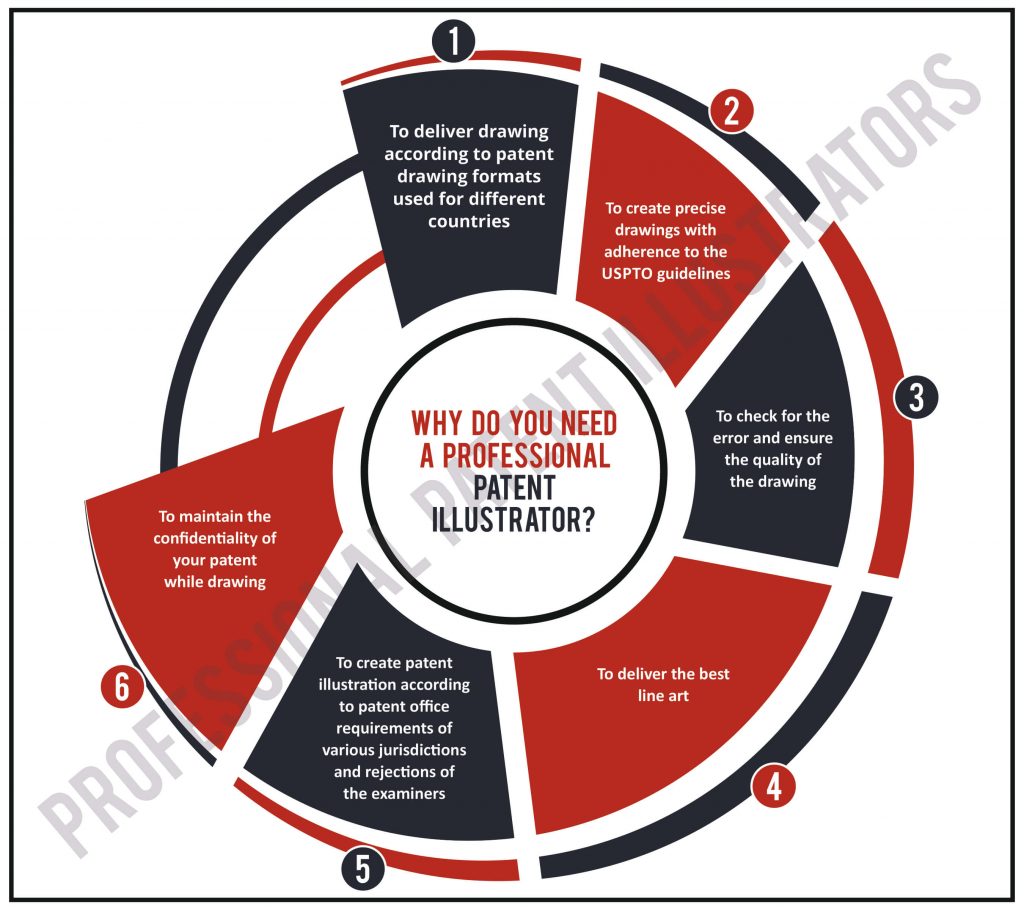 Do You Really Need a Patent Illustrator?
A good patent illustrator brings success to your patent application by saving both time and money. They prevent your patent application from being rejected by the USPTO. Also, they find the inconsistencies your attorney might have missed. So, here are some points which show the importance of patent illustrators:
Patent Illustrators keep themselves updated about the current USPTO drawings standards to deliver the best line art.
They always adapt to new software and technology. It helps them create precise drawings with adherence to the USPTO rules.
An experienced patent illustrator understands the importance of proofreading. So, they ensure the drawing they provide is error-free.
A proficient patent illustrator knows about different patent drawing formats of different countries.
They better understand all the patent office requirements of various jurisdictions and rejections of the examiners.
He or She treats your patent with utmost importance by maintaining it's confidentiality.
Have a look at some of our free samples!
Related Article: Why Should You Hire a Good Patent Illustrator?
Why Choose Professional Patent Illustrators?
Professional Patent Illustrators is a leading firm engaged in delivering quick, economic and accurate patent illustration services. We have a strong team of draftsmen who deliver hundreds of illustration every day without any compromise on quality. They keep themselves updated about new technology and software to deliver you the best patent drawings. Our objective is to help you avoid unnecessary office action after you file your patent application. To know more about our services please click on the link.
Other Related Articles:
How does a patent illustrator add value to your patent application?
Will a professional patent illustrator meet your needs?
What are the Different Patent Watch Techniques?


Click Here to Get Download Access (Free Sample Illustrations)