A first-time inventor always asks if he really needs a patent illustrator for his/her patent application. It is because he may not be familiar with the patent drawings standards of USPTO. If patent drawings rules are not followed properly, it might lead to rejection of your application at the prosecution stage. So, hiring a certified patent illustrator not only brings success to your invention protection but also saves your time and money. Also, a good patent illustrator safeguards your patent design from rejection if your patent attorney misses out any details.
According to WIPO, a patent application must include drawings if it is helpful in the understanding of the subject matter. Also, drawing brings a great advantage to the examiner by making the application easier to understand. This is where a patent illustrator works as a savior by maximizing applicants' benefits. It is true that an accurate patent illustration makes patent drafting easy. It accelerates the process and the application prosecution as well. Hence, you need an experienced patent illustrator with good skill-sets to bring out the best from your invention.
Related Article: 5 Important Things to Consider While Selecting a Perfect Patent Illustrator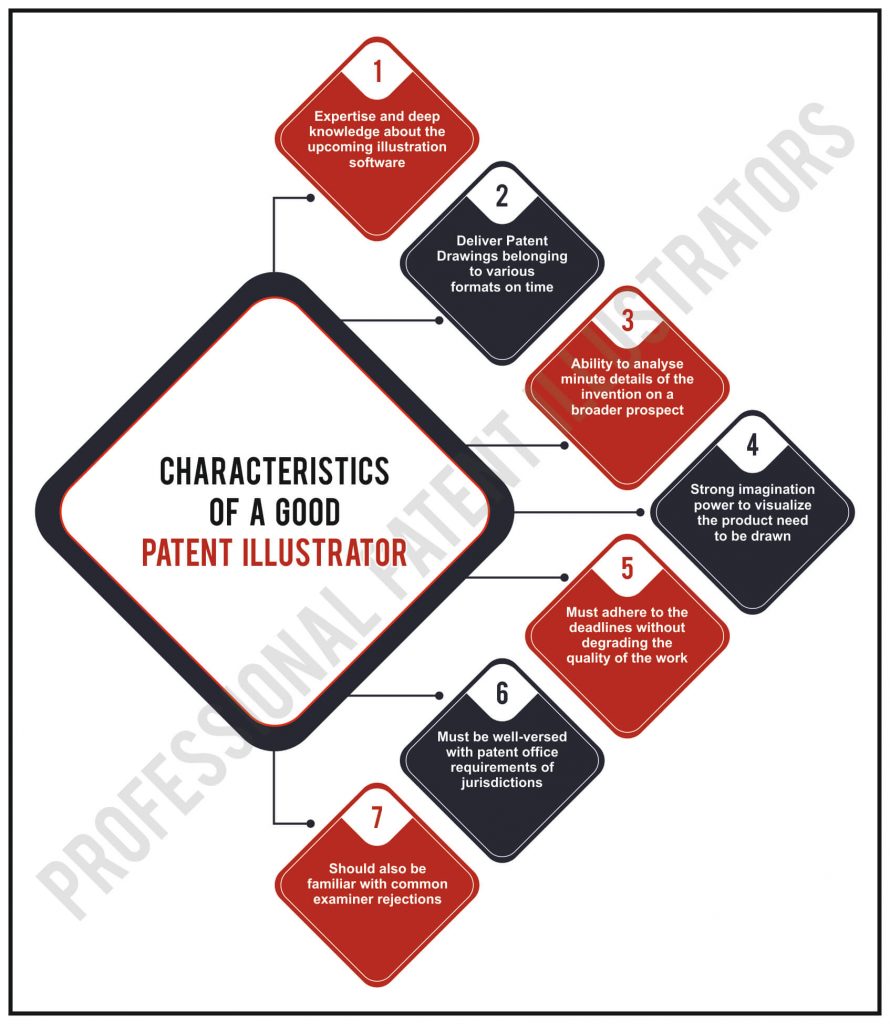 Role of Patent Illustrator in Adding Value to Your Application
A good quality patent illustration makes the examiner easily understand your invention. So, they must have the following characteristics:
Expertise and deep knowledge about the upcoming illustration software
He/She must be able to deliver patent drawings belonging to various formats on time
A patent illustrator should have the ability to analyze minute details of the invention on a broader prospect
He/She must possess strong imagination power to visualize the product to be drawn
Must adhere to the deadlines without compromising on the work quality
The patent illustrator should be well aware of the patent office requirements of jurisdictions
He/She must also be familiar with common examiner rejections
We work on Quality not on Quantity
At Professional Patent Illustrators, we care about your invention. Hence, we greatly emphasize on the novel and inventive parameters of the invention while drawing. Our patent illustrators' drawing conveys the purpose of even minute elements mentioned in the description. Thus it helps in proper
invention disclosure. A patent drawing needs to convey each element of the invention as mentioned in the description. It will enable the disclosure with clarity. It means the important elements will need proper detailing. Hence, neither should they be missing from drawings, nor they should be missing from the written disclosure. Also, while illustrating figures they bring out inventive steps and other enabling points of the invention after having a discussion with the inventor.
Related Article: Why Should You Hire Good Patent Illustrators?
Reach Us for High-Quality Patent Drawings
Are you looking for high-quality patent drawings for your invention? We have a team of professionals having expertise in various domains. Since the beginning, we have been offering quick, economic and accurate patent illustration services to our clients. Moreover, our professionally skilled patent illustrators strictly adhere to the patent office guidelines.
To make an inquiry, visit the Professional Patent Illustrators service page.
Other Related Articles:
Things To Do Before Patenting Something
Patent Filing Guide: Every Step Simplified (And Common Mistakes)
How to select a Patent Drawing Illustrator? Qualities to look out


Click Here to Get Download Access (Free Sample Illustrations)

Click Here to Download All Free Resources