People come up with all sorts of ideas, which may include some unusual inventions too. Naturally, these inventions involve unusual illustrations which depict the invention. Unless the elucidation of the invention is concise, the application will almost certainly face rejection because of its perceptible absurdness. We already know that this means the illustrations will play a big hand here. So if you come across a weird, yet an innovative idea, don't brush it off immediately. Entities in the past have had success in getting patents for such ideas.
This article talks about such absurd patents and their unusual illustrations. Patent illustrators might want to take a closer look here.
The most unusual illustrations ever created
1. High Five Machine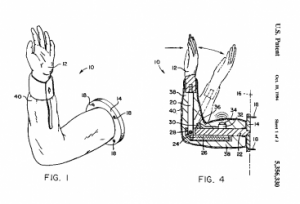 Patent No: US5356330A
The inventor got his "hands" on the patent in 1993. The purpose of the machine is to stimulate the celebratory effect of high-5'ing if there is nobody else around you. The patent instructs you to affix the high-five machine to the wall or set it on a table. This would give you a more realistic feel and serve its purpose better. Nonetheless, we still admire the illustrator for catching the intricacy here.
2. Anti-Eating Face Mask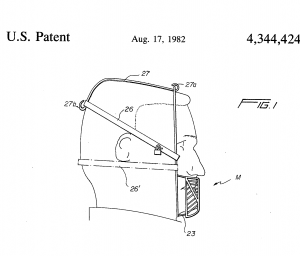 Patent No: US4344424A
The patent grant came in 1982. The mask is cage-like and serves the purpose of not allowing anything to go into the mouth. It has a cup-shaped mesh to allow the person to breathe, but it makes it nearly impossible to eat anything. This can serve as an extreme measure for those wanting to lose weight but have little control over themselves. However, how would you stop hungry dieters from taking this contraption off? We don't know, maybe the inventor does.
Is it just us or does this mask look like the one Bane from Batman wears? The unusual illustrations certainly make it look similar.
3. Reward Candy Dispenser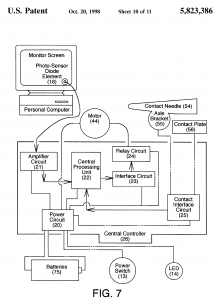 Patent No: US5823386A
The inventor got his "reward" of the patent in 1998. This unique innovation is for those of you who spend long hours at the desk. An optical sensor attaches to your screen to monitor your activity. When you accomplish a goal, a signal is sent to a container on your desk. Subsequently, the system will release a piece of candy into the chute. What a way to motivate your workers.
4. "Cool" Shoes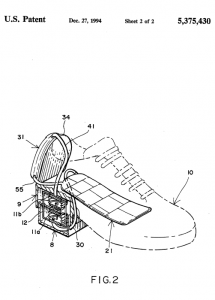 Patent No: US5375430A
The patent grant came in 1994. An ingenious inventor came up with these incredibly unique, air-conditioned shoes. The cooling mechanism is synonymous to any air-conditioner with a few tweaks. A series of chambers in the heel contract like mini-bellows as you take a step. This exerts force on a set of coolant-filled coils that turn the ambient heat to chilled air. A pad running under the foot expels this chilled air, literally cooling your heels. There is also a bonus. With an easy reversal, the cooling chambers reverse their function, becoming a foot warmer for winter months.
You can see the unusual illustrations for yourself and decide if you would ever want to have such "cool shoes".
5. Banana Suitcase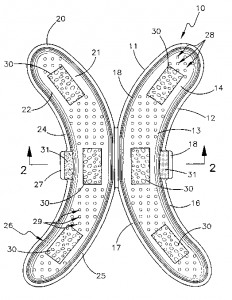 Patent No: US6612440B1
Who doesn't love having bananas to recharge themselves in the middle of the day? Although, bad things can happen. Other items in your bag might press against your precious banana and ultimately squish it. Nobody likes that. But thankfully someone came up with a solution for this. This suitcase will not only serve as a banana protector but will also refrain it from suffocating inside, because of its breathing pores. An invention to cherish indeed.
Need help with your illustrations? Professional Patent Illustrators
You may have a brilliant invention, deserving of a patent. But by now you already know how important it is to get the illustrations on point. If you want a professional's touch, reach out to us. Professional Patent Illustrators boast 10+ years of experience in delivering top quality patent illustrations. We specialize in Utility patents and Design patents, with thorough knowledge of the latest guidelines and norms. Our turn around time is incredibly fast and we guarantee any number of iterations until we satisfy your needs. To make an inquiry, contact us on Professional Patent Illustrators.
Other Related Articles:
Will a professional patent illustrator meet your needs?
Why patent assertion is important?
Patent Proofreading Advantages: All You Need to Know


Click Here to Get Download Access (Free Sample Illustrations)