Patent offices like the USPTO are always laden with multiple patent and trademark applications. This is the result of the current competitive scenario of young inventors and entrepreneurs continually coming up with new inventions. Under a strenuous competition to make your invention and brand shine, you need secure and strong Intellectual Property protection.
Moreover, the USPTO follows a first-to-file system, applicable on the patent applications filed on or after 16 March 2013.
The United States Patent and Trademark Office (USPTO) is the federal agency for granting U.S. patents and registering trademarks.
From getting started with patent and trademark basics to filing and maintaining patents of inventors located word wide.
What is USPTO all about?
The USPTO advises the president of the U.S., the secretary of commerce and other governmental agencies on IP protection and enforcement. Also, it continually promotes stronger and effective IP protection around the globe.
Moreover, USPTO is a training, education and capacity building hub that fosters to develop robust IP enforcement regimes.
The USPTO cooperates with the European Patent Office (EPO) and the Japan Patent Office (JPO) as one of the Trilateral Patent Offices. It works as-
Receiving Office for patent trademark applications;
International Searching Authority (ISA)
International Preliminary Examination Authority (IPEA) for international patent applications filed in accordance with the Patent Cooperation Treaty format.
With the USPTO you can file a patent application for:
Utility Patent;
Plant Patent; and
Design Patent.
Also, you can go for trademark registration which is in the form of a logo, shape, sound, color, scent, taste or any combination of these.
Furthermore, you can find patented inventions with the USPTO Patent Full-Text Databases. It provides you convenient search options for quick and advanced searches of its patents and pending patent applications.
Similarly, the Trademark Electronic Search System is a database of USPTO which allows you to find registered and applied for US trademarks.  TESS allows you to find:
Marks with common elements
Specific marks with known elements.
Location of USPTO Offices
Founded back on January 2, 1975, headquartered in Alexandria, Virginia the offices of this federal agency now have 4 regional offices.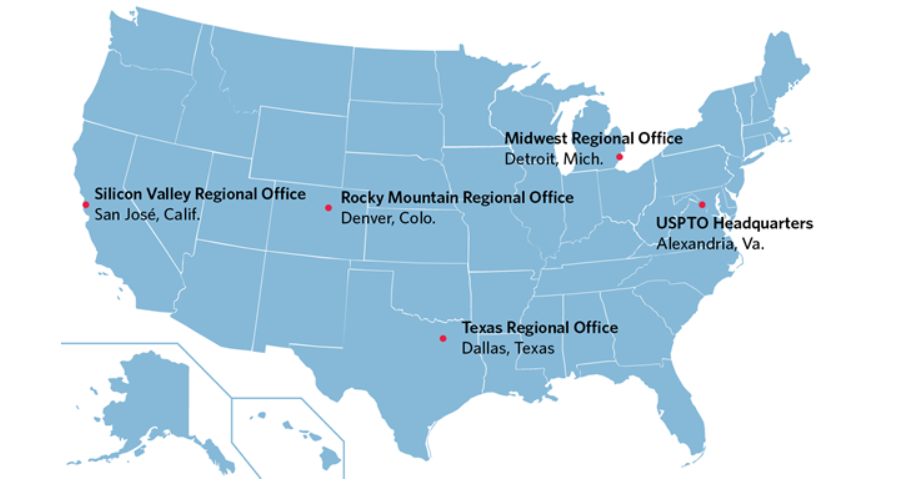 | | | |
| --- | --- | --- |
| S. No. | USPTO Offices | Serving Regions |
| 1 | Alexandria, Virginia (Headquarters) | Consolidates employees and resources, saves the federal government money, increasing productivity, and helping the USPTO attract and retain a highly-skilled workforce. |
| 2 | Dallas, Texas | Alabama, Arkansas, Louisiana, Mississippi, New Mexico, Oklahoma, Tennessee, and Texas. |
| 3 | Denver, Colorado | Colorado, Idaho, Kansas, Montana, Nebraska, North Dakota, South Dakota, Utah, and Wyoming. |
| 4 | Detriot, Michigan | Illinois, Indiana, Iowa, Kentucky, Michigan, Minnesota, Missouri, Ohio, and Wisconsin. |
| 5 | Silicon Valley, California | California, Nevada, Oregon, Washington, Arizona, Alaska, and Hawaii. |
Table 1 – USPTO Offices Serving Regions
With its presence in more than 4 cities, the USPTO gives inventors, entrepreneurs, and MSMEs the convenience of its services in every US time zone. Also, the USPTO furthers effective IP protection for U.S. innovators and entrepreneurs worldwide by working with other agencies to secure strong IP provisions in free trade and other international agreements.
What are the Benefits of Trademark Registration with the USPTO?
Trademark in the form of a logo, shape, sound, color, scent, taste or any combination of these is a very important asset for any business. Since a trademark is an identifying symbol of your business; it becomes essential and considered a smart decision to register the same.
Here are the 5 benefits of registering a trademark with the USPTO:
Registered in the USPTO database: once registered with the USPTO database, your trademark becomes much more secure as it avoids others from getting an identical or even a similar-looking mark. This, in turn, avoids the chances of conflicts and confusion, thereby creating healthy business opportunities.
Improved Marketing Status: getting the authority to use the symbol ® gives you products and services an added marketing status. This, in turn, lets your competitors know the seriousness and authenticity of your brand and gets you more customers for the long term.
Another sort of Protection: a registered trademark authorizes US Customs and border protection to obstruct the imports of goods that infringe upon your trademark. For this sort of protection get your mark recorded with Customs as well.
Ownership of Products and Services: you get ownership over your exclusive products and services that you record in the registration.
An Incontestable Mark: once your trademark completes a term of 5 years of glorifying your brand, you get the right to file your mark as 'incontestable'.
Major Benefits of Patent Filing with the USPTO
Patent protection offers you major advantages if you have an interest in launching a business or selling an invention. therefore, if you file a patent application with the USPTO, it gives you patent protection within the United States, US territories, and US possessions.
Following are the major benefits of filing a patent application with the USPTO:
Authority over your IP: getting patent protection for your intellectual property gives you the privilege of calling your invention 'yours'. Filing patent gives you a right over it for a period of 20 years from the filing date of the patent application. Moreover, it has special rights attached to it, which involves licensing or selling your invention to generate wealth.
Market Monopoly: with patent protection, you can prevent your competitors from selling alternatives to your product, which in turn will help you establish your market.
A benefit to the Society: Article I, Section 8, Clause 8 of the US similar-looking authorizes the USPTO the power "to promote the progress of science and useful arts, by securing for limited times to authors and inventors the exclusive right to their respective writings and discoveries."
In the process of the patent grant, the invention gets a public exposure through journals, so that they can make and use the invention in the future after patent expiration.
Looking for Patent Illustration creators for Patent Filing with USPTO
Patent illustrations form an integral part of your patent application. They work as an instant catch for your detailed invention. Therefore, while filing a patent application with the USPTO you need illustrations that are as per the rules of the patent office.  Skipping upon any of the requirements can prove deleterious for your invention. Hence, be very careful while drafting illustrations.
Since patent filing is a one-time opportunity that can give or take away the authority of your invention from you. Hence, if you are to file a patent application do consider taking professional services for preparing the illustrations.
We at Professional Patent Illustrators, hold years of trusted experience of drafting patent illustrations for utility and design patents. Our team delivers quick and efficient services; and offer multiple iterations, whenever needed. You can find our illustration samples for free by providing your inputs. For more information, do give a visit to Professional Patent Illustrators.
Other Related Articles:
Patent Filing Requirements in USPTO – in a Nutshell
PCT patent Filing: All That You Need to Know


Click Here to Get Download Access (Free Sample Illustrations)