Not all inventors are good illustrators. To begin with, this is why most inventors hire patent illustrators with vast experience in making the best patent illustrations.
Patent illustrators with a good sense of imagination and practical knowledge properly visualize the invention to be drawn, and draft various views in order to describe the invention in the best possible way.
Importance of Patent Illustrators
Good patent drawings reflect the qualities of Patent illustrators.
Patent drawings are not just drawings but are a representation of the inventor's invention. They also help in understanding the invention better. Patent Drawings help in easy patent grant and they also ensure minimal or zero office actions.
These illustrations help the examiners to understand the inventions with better clarity. This, in turn, makes the patent grant process smooth. However, patent examiners may hold the process of patent grant if we are unable to submit a proper Patent drawing of the Invention. In some cases, the examiners even nullify the whole Patent grant process. And hence, for a comprehensive Patent drawing we need a Patent illustrator.
A Patent illustrator provides the best illustration for an Invention. He\She helps us explain the invention in a more detailed manner to the patent examiner for better understanding. While using their imagination and artistic skills, they can draw every detail of the Invention on the Patent drawing.
Also, there are certain details that an applicant may forget to mention in the written patent draft. Thus, the Patent illustrator can cover up those details in the drawing. In fact, the Patent examiners give more weight to the Patent drawings for understanding the Invention.
Also Read: What are the Design Patent Drawing Requirements?
What Characteristics make Good Patent Illustrators?
There are several characteristics that good patent illustrators have. A few of them are:
Consult And Discuss Inventions With Inventors
Good patent illustrators work closely with the inventor to make sure that the patent illustrations, which they draw, perfectly cover and explain the invention or product.
Aware About The Required Number Of Drawings and Views
They know the required number of drawings. And, they are also able to illustrate those drawings with complex and enough views necessary to claim a product/invention.
Up-to-Date with Latest Software
Well experienced patent illustrators are always aware and capable of using the latest software for better illustration of patent drawings and that too with proper intricacy. They are able to furnish patent drawings in numerous formats possible.
The required formats for patent illustrations differ from country to country. Good patent illustrators are always fully aware of the patent office requirements of different jurisdictions. They are also well aware of the potential common mistakes which could lead to patent application rejections by examiners.
Ensure On-Time Deliveries
They meet deadlines without compromising on the work quality including proof reading and checking for errors as well.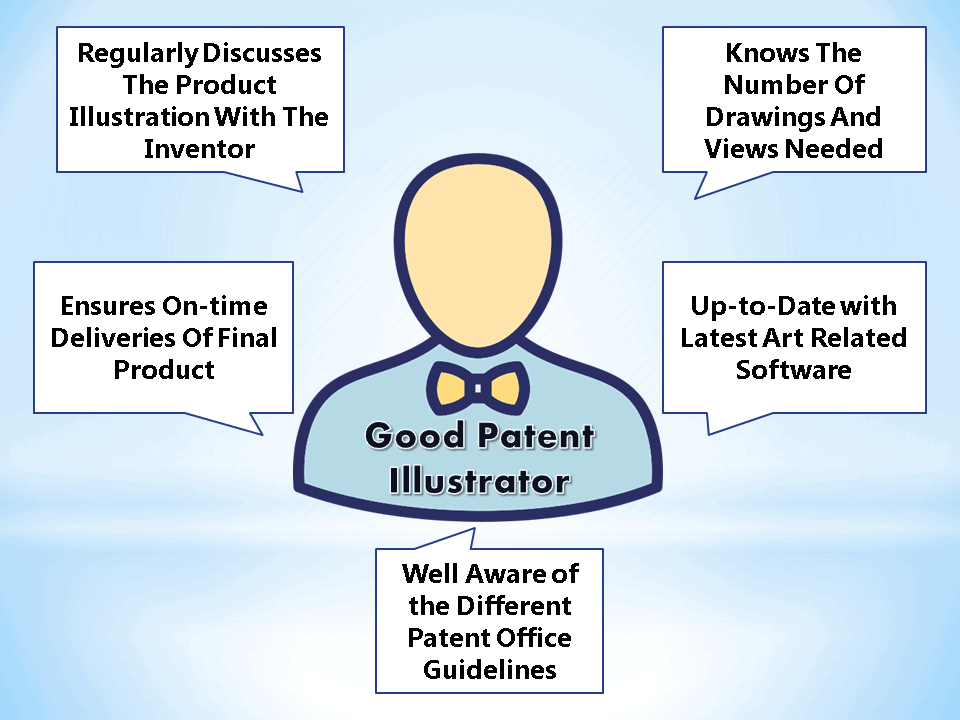 Keeping an invention secret is a sign of a good Illustrator as ensuring confidentiality is of the utmost importance. Experienced patent Illustrators put all their knowledge in the drawings to make it an exact replica of the inventor's invention.
Also Read: What are the Utility Patent Drawing Requirements?
Get The Best Patent Illustrators To Trace Your Ideas On Paper!
You may have a brilliant invention, deserving of a patent. But by now you already know how important it is to hire the right professional.
Professional Patent Illustrators hold 10+ years of experience in delivering top quality patent illustrations. Moreover, we specialize in Utility patents and Design patents with thorough knowledge of the latest guidelines and norms. In addition to that, our turnaround time is incredibly fast and we guarantee any number of iterations until we satisfy your needs.
To know more, go through our services today.
Check our free samples or contact us here.
Other Related Articles: